tombola's online bingo awards
If anything makes us feel prouder than being Britain's biggest online bingo site, it's having the awards to prove it! We're really grateful that all the hard work we put into making sure our players can enjoy a unique, safe and fun experience has been recognised by the industry and - more importantly - by the players themselves. Here are all the awards we've racked up since 2009...
Join our community
What makes tombola so special is our community of wonderful players and friendly Chat Moderators. When you join tombola and our online bingo community you'll be signing up for a whole load of fun. There's always something exciting happening in our Chat Rooms, why not pop along to our Community Hub to see what's on in our bingo community this week?
Check out our unique bingo games
As well as a warm welcome 24/7 we've also got loads of exclusive bingo games that you won't find anywhere else. If you're into traditional games we've got 90-ball bingo favourite bingo90. Relive your seaside nostalgia with bingo80 and its shutterboard styling. If you're in the mood for something different why not play one of our totally unique games like the explosive Blocks, or the steampunk spectacular The Machine. 
Socially Responsible Operator
Socially Responsible Operator
Bingo Operator of the Year
In-House Product
Bingo Operator of the Year
Marketing Campaign
Socially Responsible Operator
Bingo Operator of the Year
Bingo Operator of the Year
Customer Services Operator
Socially Responsible Operator
Bingo Operator of the Year
Bingo Operator of the Year
Socially Responsible Operator
Best Bingo Chat Hosts
Bingo Operator of the Year
Best Overall Bingo Operator
Best Bingo TV Commercial
Most Popular Online Bingo Site
Best Chat Host Team
Bingo Operator of the Year
Online Bingo Operator of the Year
Most Popular Online Bingo Website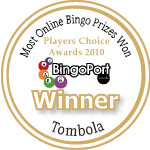 Most Online Bingo Prizes Won
Best Online Game Innovation
Best Online Bingo Chat Team
Most Online Bingo Prizes Won