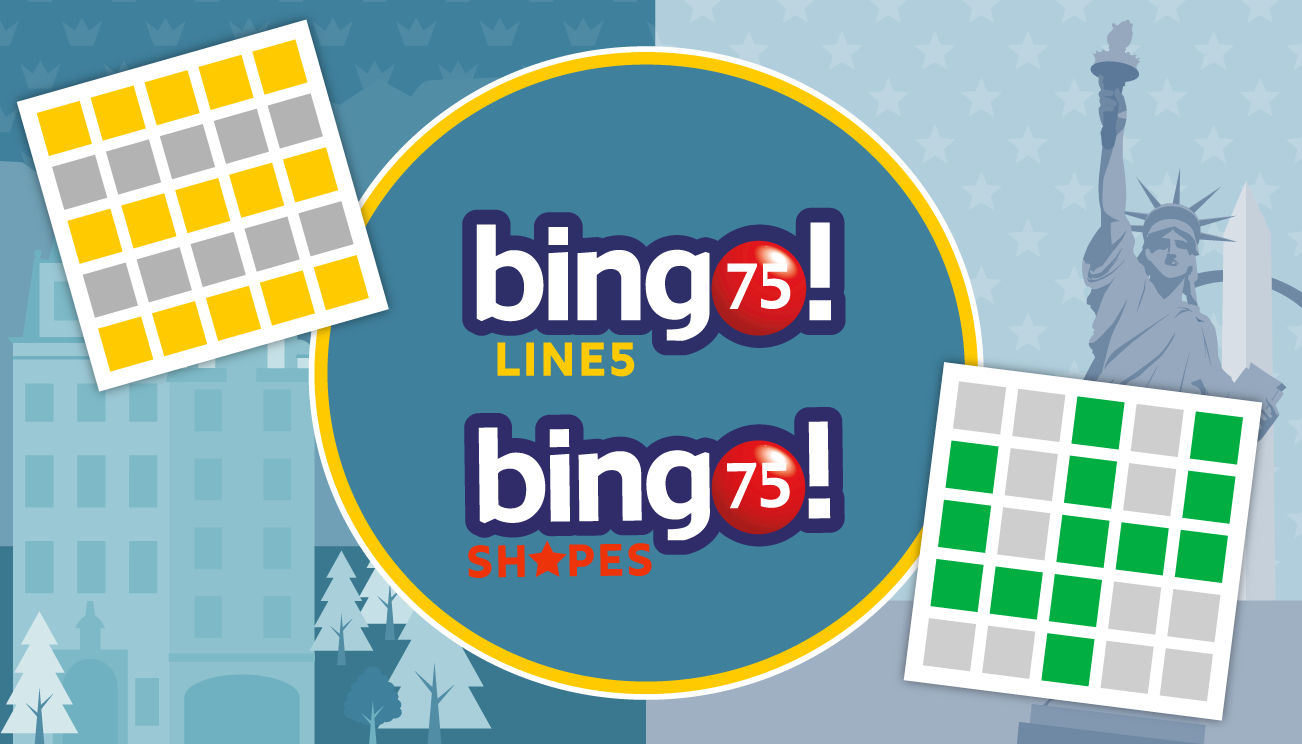 How to play bingo75
Alongside the 90 ball variant of the game, 75 ball bingo is one of the more traditional and most popular styles of bingo played across the world. It's undoubtedly the most popular form of the game played in the USA. Thanks to the introduction of online bingo, it continues to grow in popularity here in the UK too. But what is 75 ball bingo?
What are the different types of bingo 75?
As with any type of bingo, 75 ball has several different variations to play. It's always played on a 5 x 5 grid with a selection of numbers ranging from 1 – 75. At tombola, we have two different types of 75 ball bingo available. Our original 75 ball bingo game bingo75 shapes is inspired by the most popular form of the game Stateside, whilst our newest bingo75 lines is a Swedish variant of the game.
How to play bingo75 shapes
You may be wondering what is bingo75 shapes and how does it differ from other 75 ball bingo games. Although the aim of most bingo games is to be the first person to clear a Line or Full House to win a prize, bingo75 shapes uses patterns instead. The pattern changes before each game, so no two consecutive games are the same. There's one prize to be won in every game and the amount up for grabs depends on how many players have bought into the game. Each ticket consists of 24 numbers on a 5 x 5 grid. The middle square is always left free and is marked with the tombola logo.
There are two Chat Rooms to choose from in bingo75 shapes – Stars and Stripes. After choosing your Chat Room, it's time to purchase your tickets. The minimum stake per game is 10p for one ticket, with the maximum being £1 for 4 strips. Confirm your purchase and you are bought in for the next game.
When the game starts, you will notice some of the squares on your ticket are highlighted. This is the pattern you are trying to complete. The first person to mark off all numbers within the pattern on the grid is the winner of the game. There's also a £500 Jackpot to play for too. As the pattern changes in each game, as does the number of calls needed to win the Jackpot.
How to play bingo75 lines
Whereas there's just one prize up for grabs in bingo75 shapes, there's a total of five to play for in bingo75 lines. That's not the only difference, however, as bingo75 lines focus on lines rather than patterns. Inspired by the most popular form of bingo in Sweden, there are Five Line prizes to play for in each game. The aim of the game is to be the first player to mark off all numbers on One Line, Two Lines, Three Lines, Four Lines, or Five Lines.
Ticket prices in bingo 75 lines start from 20p for one ticket. The maximum you can spend per single game is £2 which gets you 4 strips of tickets. Unlike bingo75 shapes, which has two Chat Rooms to choose from, there's just one in bingo75 lines. It's open 24/7 and you don't even have to be staking in the game to join in the fun. In our Chat Rooms, you will find our Chat Moderators and they are always on hand to answer your questions and to help keep chat flowing.  
There's a fabulous bingo Jackpot to play for too. If you can mark off all your 25 numbers in 52 calls or less, you will win a £1,000 Jackpot. As with all our tombola games, Jackpots are never shared. If more than one person wins the Jackpot at the same time, both will receive the full amount. It's also worth keeping an eye out for any upcoming bingo offers and promotions in bingo75 lines where we have Guaranteed Prizes set at a minimum amount for a specific time.
Are tombola games different to other bingo sites?
At tombola, all our games are designed and created in-house. Not only do we have many exclusive bingo games that you won't find anywhere else, but we have our own take on the classic and most popular forms of bingo too. As 75 ball bingo is a standard game, both our bingo75 games are similar to what you can play elsewhere, but with their own tombola twist. 
What other types of games are available?
There are many different types of bingo games to play at tombola. Two of our most popular games, including bingoLite where tickets start from just 2p, are our 90 ball offerings. In our original game bingo90, where tickets start from just 10p, there are One Line, Two Line, and Full House prizes up for grabs in every game. There's also a progressive Jackpot to play for too. The biggest Jackpot to be won in bingo90 so far was a whopping £39,341 by mrsbarrowman.
Our completely unique bingo games are also very popular. We have many games, such as our card-based bingo games Cinco and Nevada and our penny bingo game Paper, that are exclusive to tombola. The wide variety of games is just one of many reasons to play online bingo with tombola.