Crikey mate!
Look what we've got going on during I'm A Celebrity...Get Me Out of here
Come join us for our biggest ever giveaway
We've got hundreds of cash prizes to be won daily from a humble £5 to a HUGE £10,000! Play on both tombola and tombola arcade for 2 chances to win daily. And, the best part is? It's FREE to play! 
DAILY: Sun 18th Nov – Sun 9th Dec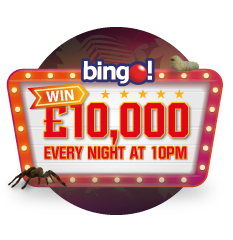 £220,000 will be won during I'm A Celeb
Yep that's right, head to tombola bingo and dash to bingo90 EVERY night during I'm A Celeb, Sun 18th Nov - Sun 9th Dec, where we'll be giving you the chance to get your hands on a £10,000 Full House prize in the 10pm Link game.
DAILY: Sun 18th Nov – Sun 9th Dec 

£10k @ 10pm: Set yourself a reminder!
Join us on tombola arcade
Stake £1 real money in any tombola arcade game and you'll be entered into a prize draw to win £500 every 15 mins!

Mon 3rd Dec - Sun 9th Dec 9pm-10pm
Get the gossip
Head over to Forest room in Blocks on tombola bingo every night during the show, where we'll be having a natter about all things I'm A Celeb, as it happens!
Sunday 18th Nov – Sunday 9th Dec 
DAILY: Blocks Forest room 9pm-10pm
Who are #tombolabugs?
The #tombolabugs are back again, and this year they've got a few more friends. Spot them in chat, across our social channels and of course, on tv!
On the first day of Christmas, tombola gave to me..
Play every day and you'll find out! We've got a guaranteed prize up to £5,000 for every single one of you when you play every day. What will your doors have in store?
Saturday 1st Dec - Saturday 24th Dec
Hundreds of prizes to be won
Be sociable critters and join us on Facebook, Instagram, SnapChat and Twitter throughout I'm A Celeb for your chance to get your antenna on some spectacular prizes.
Facebook /tombola 
Twitter @tombola 
Instagram @tombola_uk 
Snapchat @tombola-uk
£50,000 of prizes to be won
We all love a raffle. Opt in to SMS to receive your weekly raffle ticket and see if you're a lucky winner! There's 4 x holidays to New York to be won this year, could it be you jetting off this January?
Monday 3rd Dec - Sunday 30th Dec