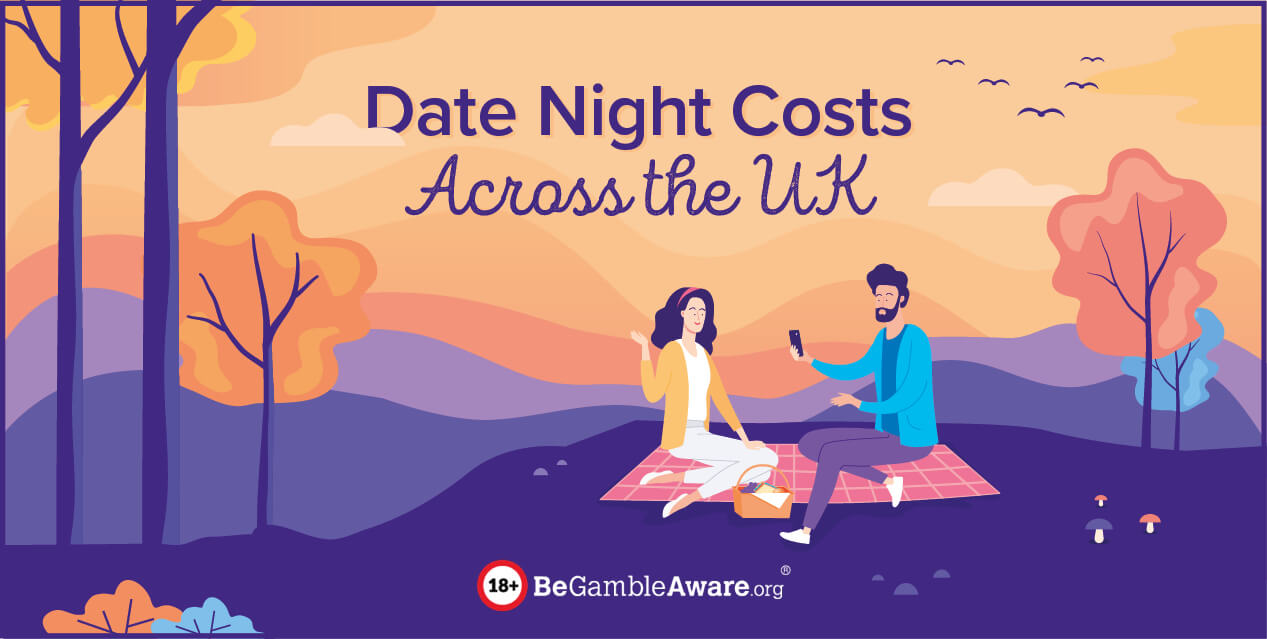 The Best and Worst UK Cities for Love
Did you know that a recent study found that couples who enjoy a 'date night' once a month are more likely to stay together? And, that two in five Brits would be willing to uproot and move somewhere new, all in the hopes of finding 'true love'. 
With that in mind, tombola has analysed Expatistan and Tripadvisor to look at which UK cities offer the cheapest and most expensive date nights to reveal the best locations for love – whether you are in a relationship, searching for 'the one' or even planning a fun night away with your best friend. 
Sunderland crowned the cheapest UK city for dating
| | |
| --- | --- |
| UK City | Cost of Day/Night |
| Sunderland | £102 |
| Liverpool | £105 |
| Hull | £112 |
| Milton Keynes | £117 |
| Sheffield | £124 |
| Leeds | £129 |
| Peterborough | £135 |
| Plymouth | £139 |
| Stoke-on-Trent | £140 |
| Southampton | £141  |
Those in a relationship or looking for love are best placed in Sunderland. In contrast to Manchester, Sunderland claims the award for the cheapest UK city for dating. 
Romance is in the air, with a day and night in the city costing just £102. That includes a meal for two *at the most popular restaurant on Tripadvisor, a taxi in the centre, a visit to the best-rated attraction in the city, cinema tickets for two and a hotel room. 
While the city may not, typically, be considered romantic when compared to other UK cities, there's no denying it's great value. Sunderland is home to the cheapest hotel stay, as well as one of the best dinner date options. 
Liverpool takes second place for the cheapest British city for dating. A day and night for two costs as little as £105; just £3 more than Sunderland and £218 cheaper than London. Like Sunderland, both their top-rated attractions on Tripadvisor are free.  
Kingston Upon Hull, Milton Keynes and Sheffield are the third, fourth and fifth cheapest cities for love – costing £112, £117 and £124. 
Manchester and London are the most expensive cities for dating
| | |
| --- | --- |
| UK City | Cost of Day/Night |
| Manchester | £323 |
| London | £300 |
| Belfast | £206 |
| Brighton | £194 |
| Portsmouth | £190 |
| Newcastle | £185 |
| Birmingham | £178 |
| Bristol | £176 |
| Leicester | £175 |
| Wolverhampton | £173 |
However, it's bad news for romantics in the 'capital of the North' and the UK's capital. 
In Manchester, you can expect to spend £323 for one day and night. This includes a visit to the most popular budget-friendly attraction – The Etihad Stadium - a meal for two, cinema tickets and a taxi back to your hotel. The city also boasts the most expensive attraction of all analysed, with a tour for two at the Etihad Stadium setting you back £50.  
Similarly, going on a date in London will see you dig deep into your pockets, costing £300 for one day and night in the city.  
Other cities that make the top include Belfast (£206), Brighton (£194) and Portsmouth (£190).
The priciest dinner dates are in Derby and Brighton 
While Derby is not the most expensive city for dating - placing 13th priciest overall in the UK - it is home to the most extravagant meal for two. Sitting down for a main meal in the city's most popular restaurant (on Tripadvisor) will set you back £50. That's almost half of the entire cost of a one-night stay in Sunderland. 
Brighton also boasts the second most expensive option for a meal for two. Dinner for two - minus drinks - will cost you £48. However, Brighton did place fourth most expensive, so it's little surprise that the meal is one of the highest in price. 
London is the third costliest when it comes to a meal for two. In London, you can dine out for £38 in the most popular budget-friendly restaurant voted on TripAdvisor.
How much are we willing to spend on dates?
With the average date costing Brits £166 using the data analysed, it seems we are willing to spend a lot on love.
Dating in Manchester can cost £2,907
For those who are looking for a partner, it's said to take the average Brit nine dates to meet 'the one'. If that is the case, people in Manchester could potentially spend a staggering £2,907 in the search for love. 
Those who live in London could also spend £2,700 in the pursuit of love. At the other end of the scale, however, romantics in Sunderland could spend around £918 over the course of nine dates - considerably less than Londoners. That's if they were to book a movie, meal for two, an attraction, taxi and hotel while dating.
So, there you have it. For those looking for love or a budget-friendly date in the UK, you need to head to the North East where Sunderland takes the crown.
How to save money when dating
As dating can cost money, we are rounding up the top tips to save money while looking for love. 
Keep it casual
Opt for casual first dates, such as meeting for a coffee or a walk in the park. Not only will it save you money but it also keeps the date more informal. If you find the idea of a meal a little nerve wracking, this type of date should ease those nerves and save your money. 
Check out free activities
In tombola's study, 10 out of 25 of the top-rated attractions in each city were free. So, there are always activities out there for you to suggest that don't cost any money. You just have to do your research. 
Swap your cinema date for a movie night at home
According to tombola's data, the average cost of two cinema tickets is £19. If you feel comfortable and safe in the presence of your date, you could always swap for a movie night at home.
Pack a picnic
If you love the outdoors, why not save on the price of a meal in a restaurant and pack your own picnic? You can get to know your date better by asking what they like, so you already have something to talk about when you get on the date.
Head out earlier for food
If you do want to eat out, you could head out for food earlier in the day. Breakfast and lunch tend to be cheaper than an evening meal. And, as you are already outdoors, you could carry on the date by visiting a free activity. 
Methodology
To reveal the most expensive and cheapest UK cities for dating, tombola analysed the price of:
Taxi fare in city centre (5 miles)
2x cinema tickets
Main meal for two in the number one rated Tripadvisor restaurant (excluding drinks)
Visit to the city's number one rated, budget-friendly Tripadvisor attraction
One night stay in the number one rated hotel Tripadvisor, on Feb 14th - Feb 15th, 2022
Sources are Expatistan and Tripadvisor. Data collected 10/01/22.