tombola bingo
app for android
4.5





(5804

)
open your phone 'settings'
​and navigate to 'security'
​
As you are downloading
direct ​from tombola,
find and tick
​'unknown sources'
tap 'OK' on the pop-up
​to confirm the change
​head to
​tombola.co.uk/app
​on your phone and click on
​'​download'
​a pop-up will appear.
​tap 'ok' to
​begin the download
​once downloaded
​click on the .apk file
​and select 'install'
​installation will only take
​a few moments
​register an account
​or login to play
​once installed, simply tap
​'open' ​to launch the app
​*Kindle instructions vary slightly
​​Do you want to install this application? It does not
​require any special access.
​tombola app is
100% safe and secure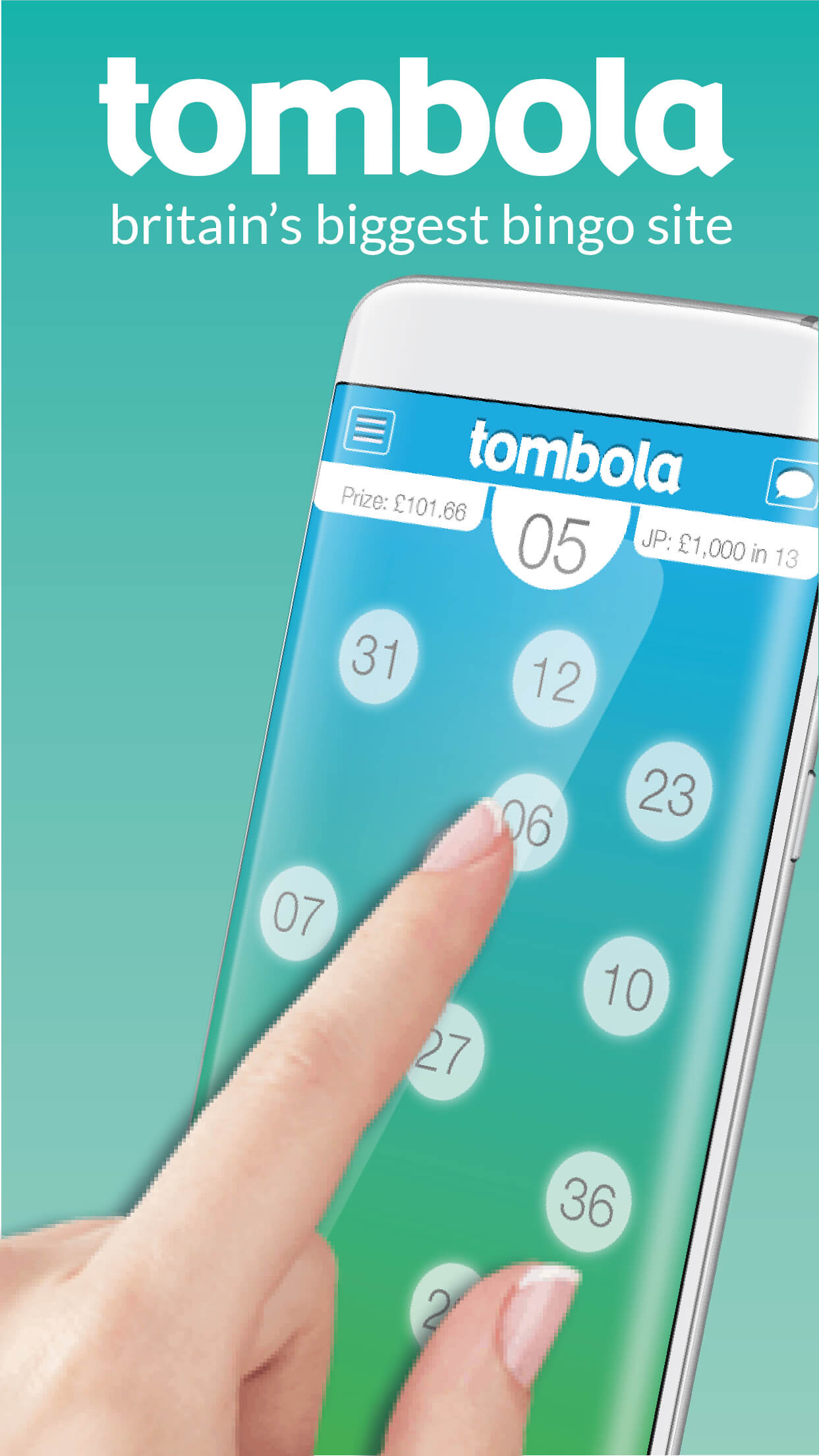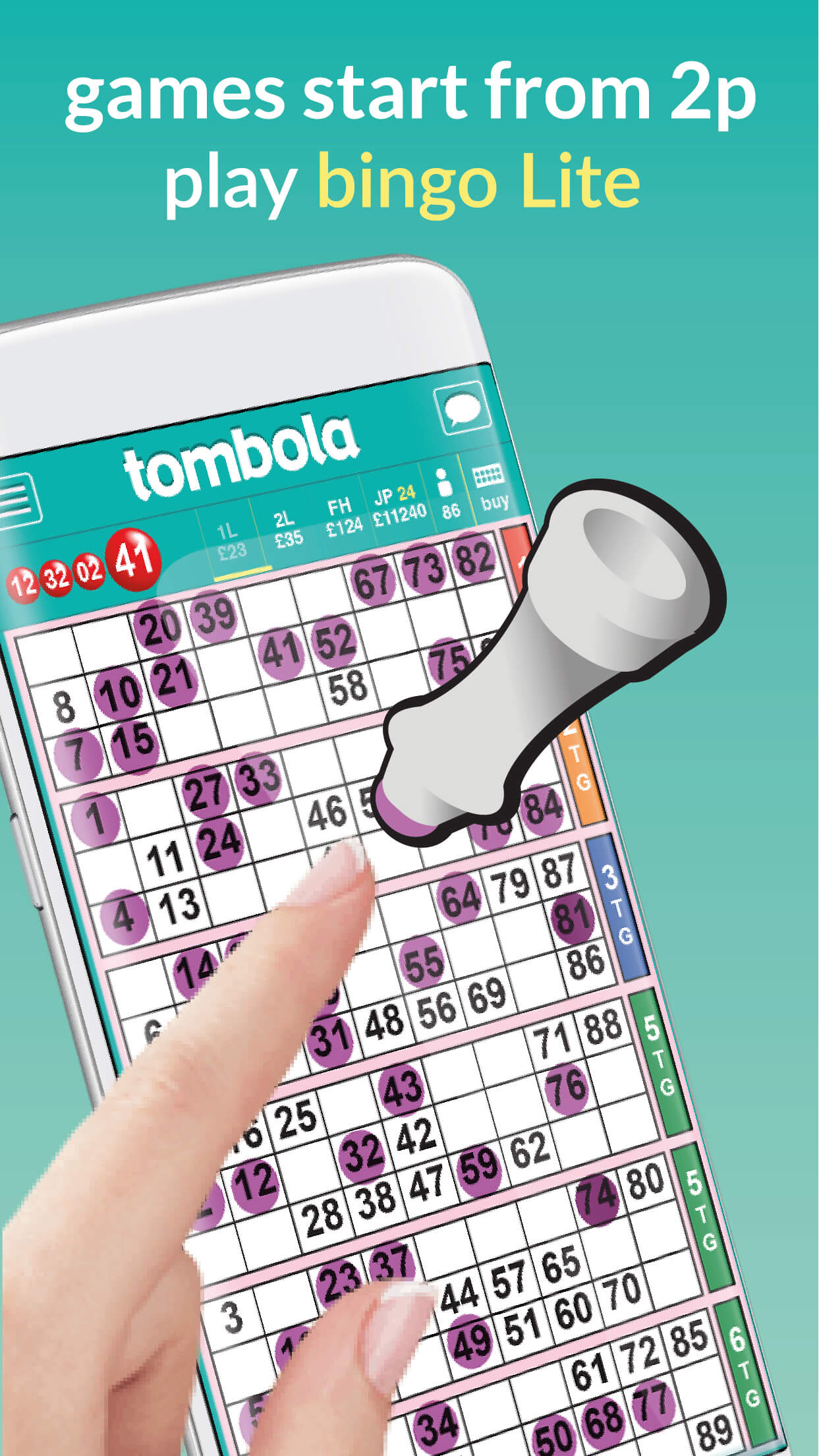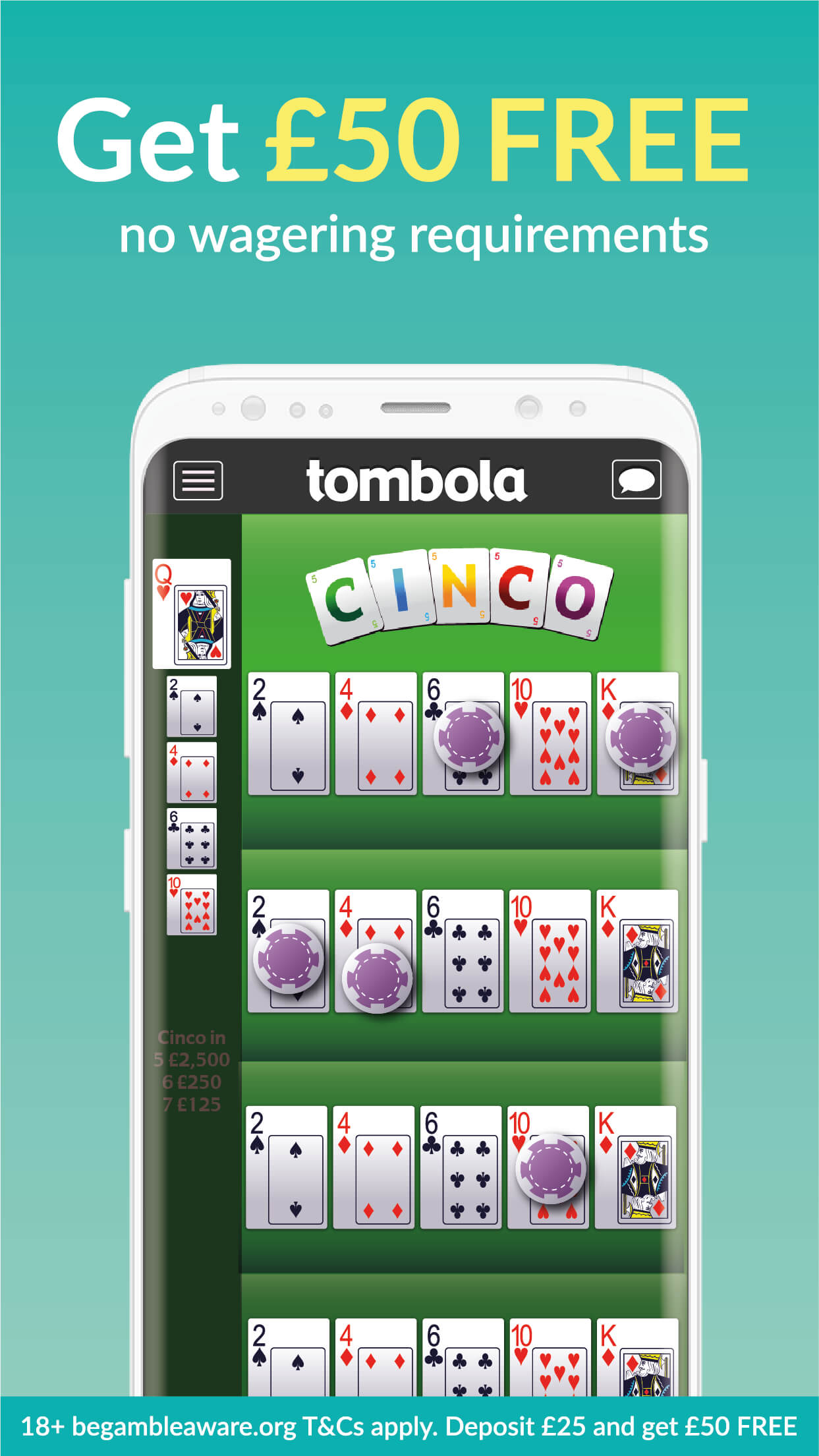 Description
Come join the fun at tombola, Britain's biggest bingo app. We've got all of the games you know and love like bingo 90 and bingo 80 as well as some of our own unique bingo and casino games like Pulse, Cinco and our latest game Blocks.
What's more new players can get their hands on our welcome if; if you deposit £25 we'll give you £50 absolutely FREE or deposit £10 and we'll give you £20 extra to play with*
...and remember if you win and want to withdraw any real money, there are no wagering requirements at all. So if you win money in any game you're able to withdraw the full amount.
Already a tombola player? Then simply download the app and login using your usual details and you can play all of the games you know and love on the move, in front of the TV or even on the loo if you so wish… you can't do that with a desktop computer.
Our games start from just 2p in bingo Lite and we have unique bingo games that you'll not find anywhere else. If that still doesn't tickle your fancy how about jackpots up to £20,000 ? !
Community is at the heart of tombola bingo, all of our online bingo games have chat rooms attached to them so you can have a natter with other players and our friendly bunch of Chat Moderators, who you'll see from time to time. Our Chat Mods are happy to answer all of your tombola questions and you can also win money in their chat games throughout the day. ***
We're a gambling website but we want you to gamble responsibly, we want you to have fun while you play whilst making sure you stay in control of your spending. We've got a number of responsible gambling features to help you do so – from setting a deposit limit(don't forget you get £1 bonus for doing this), freezing a game, cooling off and much more. Be sure to check out the "play responsibly" section in your account.
This is just another reason we've won Bingo Operator of the year (2017, 2016, 2014, 2013, 2012) and Best Overall Bingo Operator(2012)
Over 18s only.
* Deposit £10-£25 and get 200% bonus money. First deposit only. Terms apply.
iOS app store reviews
4.5





(5804

)

Great format and prize money

Fun games I've been playing for years and only ever had 1 big win of £250 on the arcade bubble game Probably spent so much more would love a nice big bingo win Do enjoy the arcade games, would say bubble is my favourite

I love love love tombola. 💖x

4.
Working now
Chris-K-199
This was working until the update yesterday please can you do another update to correct it please. Will then alter it to 5 stars. This is the second time this has happened when updating Thank you. This was sorted very quickly thank you to one of the best bingo sites 👏👏

I've been playing for about 2 years and absolutely love it there's nothing bogus about it I have won a jackpot and wish all ppl xgl defo one to try

This app is fantastic, really good fun for hours on end if you've got the money to spare, excellent bonuses and just a joy to play, absolutely amazing

Love this been a member for over 10 years, just recently came back to it! Wee tenner here and there doesn't cost that much! Gives me a wee boost when I get a wee win

8.
Brilliant app, no problems at all
Jenbear861
On first go I won £250, then week later won more and I had only deposited a £10. So far this month I'm up £690. Thankyou tombola, and also refer a friend is a damn fine idea that and I make some extra £ from my pals winnings too ;)

Fantastic app lots of freebies

Brilliant

I love Tombola, both me and my sister joined around the same time I have never won anything big on tombola but my sister won £500 on a scratch card.

It's what it is bingo a gamble you have got the same chance as everyone else just make sure you set a credit limit it can be addictive

Love Tombola Bingo won a few times in different games,, thank you tombola for saving me from going to bingo halls greatest online bingo site out 5stars

14.
Fantastic sitr
MissToria1212
Absolutely love this site have good days and bad days but find it very fair cm's are extremely friendly and helpful plus other players are great

Great game

Fab bingo site, actually the best I've been on!!! The app is so easy to use on the phone. Chat rooms are always really friendly too 😄

It's a good games first time playing only deposit 10 got 20 free an won 36

I play Tombola on and off, have been playing for ages now, not won anything big. Don't think I ever will, as like many others I do believe it's only ever a certain group of accounts that win. Most probably people that work within the Tombola app. So putting it back into the BIG money pot!!!! Last night a player said something on the lines of 'I banked £400 earlier, and I've still got £350. in play.' Do people really play with that much money? What really winds me up, is the advert on the TV. It's so wrong, saying its a family atmosphere, and everyone gets on and plays together. Whenever I log in, I always say hello to all the other players............ No response, if I ask a question in general..........No response! and asking the CM a question, is a joke, as it's completely ignored. BUT the same old people/names have complete conversations. The word that sticks in my head is Con.Yes I know I play (my choice), and I expect I will carry on, with my little £10.00 deposit. But it's all a load of rubbish really😀

19.
Best bingo app
Erica&RJsMummy
Great app, graphics are brill, all the games are smooth and the safe play features are great so you can control how much you spend and never spend more than you can afford to lose :) moaners are stopped quickly by chat moderators too. Really cannot fault Tombola!

Love tombola have won quite a bit of money in the last3 years I've been on it never had an issue with recieving my winnings either you win some you lose some all part of gambling fab sight all in

I don't win often but I have won a couple of jp,s been here quite a few years just love it t

22.
Love it
jay1234568362
Love this app. Won near enough 3k in 2018. You have to know when the time is right to bet , me and my partner loves it- recommendable 😀

Great I love it

Great most of the times

25.
Stefpossil
stefpossil
Ok game nice bonuses

26.
Good game
emman152157
Tombola is a game where you have to be sure when you want to bet money on. Sometimes you can put £10 on and go onto win loads and other times you lose it all. It's a good game as far as graphics go. Just be precautious.

27.
Tombola. Tombola is the best site to play I love it xxxxxx
happycarter28
Brilliant site love it best ever xxxx

Love this site, won quite a few times, lots of fun games and the tombola arcade is great too! Check it out!

29.
Love it
llllnickyllll
Love this site. I've tried several others but always end up back here. Luck is luck and the odds of winning are just as good here as anywhere else. But the game play and site setup is better here. I recently won on the cinco big wins. Whoop whoop. Been here for a good while and for me it's the best. Set your limits and enjoy 😀

30.
Long time tombola player
bingomad22
I have been with this site for years, brilliant site, you can set deposit limits, maximum £2 for tickets which is great because I've been in other sites that when you max your tickets it can be up to £12. Arcade is the best. Always fun great atmosphere in the chat rooms
Additional app information
Updated
13th February 2019
Current version
5.4.10+2
Size
100 MB
Compatibility
Version 4.4 (KitKat) and above
Feedback
Keep your feedback coming in to [email protected]
Having trouble installing?
Q. Why do I need to allow 'Unknown Sources' on my kindle?
A. Kindles are only set to only allow downloads from the Amazon Store. Ticking the 'Unknown Sources' box allows you to download apps outside of the Amazon Store. As of Wednesday 2nd August, 2017 the tombola app will be available in the Google Play Store, for all other android devices.
Q. What happens if I turn 'Unknown Sources' off after downloading your app?
A. Nothing, you will still be able to play on our app.
Q. I've downloaded the app but I can't find it.
A. Use the pull-down menu after the app has downloaded and click 'install'. If the app does not show, look in the file 'app' and then 'download' folder - it may have downloaded to your phone's memory or to your memory card.
Q. What Android version is the app compatible with?
A. Version 4.4 (KitKat) and beyond.