tombola bingo kindle app
4.3





(3372

)
open your phone 'settings'
​and navigate to 'security'
​
As you are downloading
direct ​from tombola,
find and tick
​'unknown sources'
tap 'OK' on the pop-up
​to confirm the change
​head to
​tombola.co.uk/bingo-app
​on your phone and click on
​'​download'
​a pop-up will appear.
​tap 'ok' to
​begin the download
​once downloaded
​click on the .apk file
​and select 'install'
​installation will only take
​a few moments
​register an account
​or login to play
​once installed, simply tap
​'open' ​to launch the app
​*Kindle instructions vary slightly
​​Do you want to install this application? It does not
​require any special access.
​tombola app is
100% safe and secure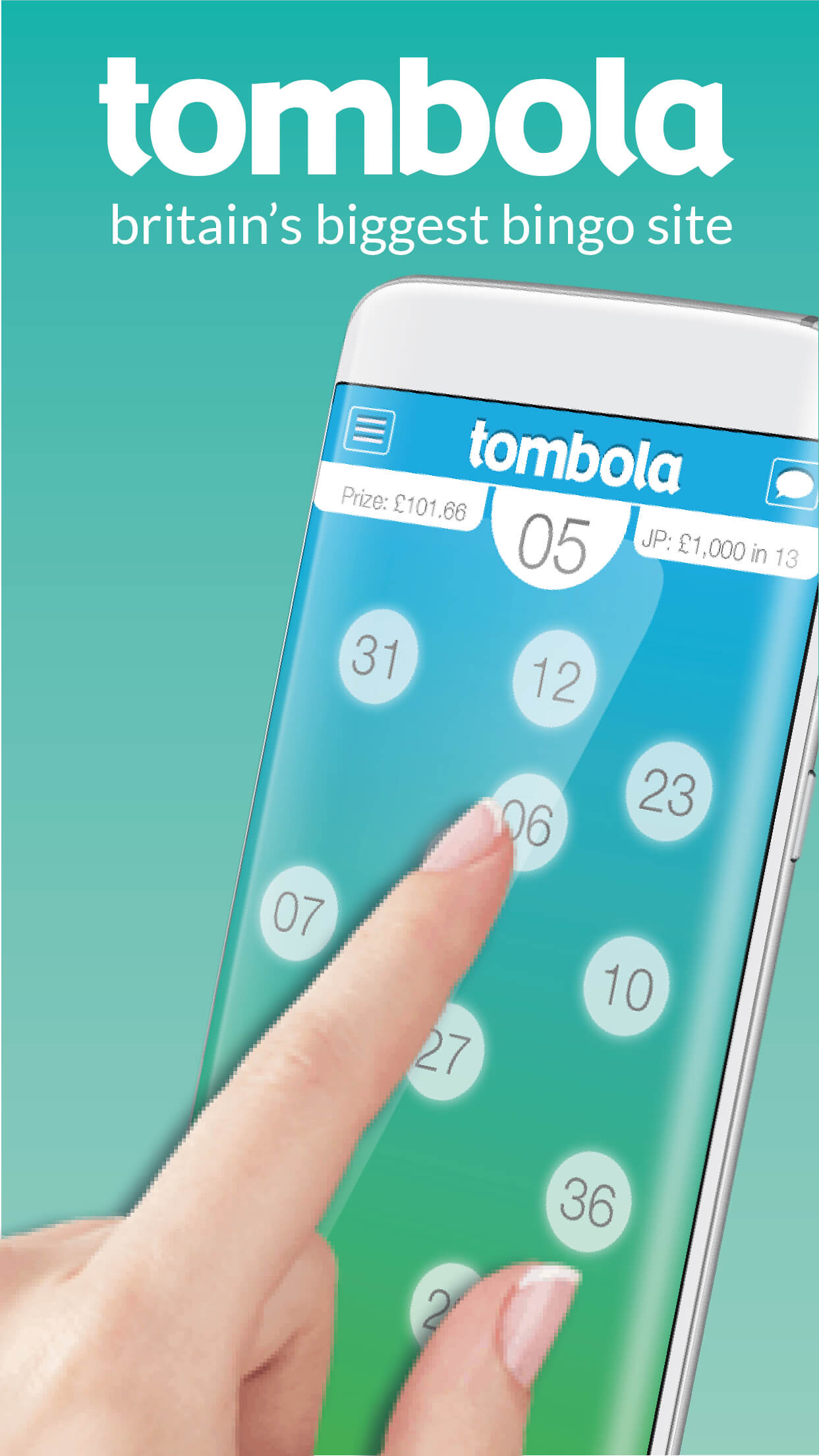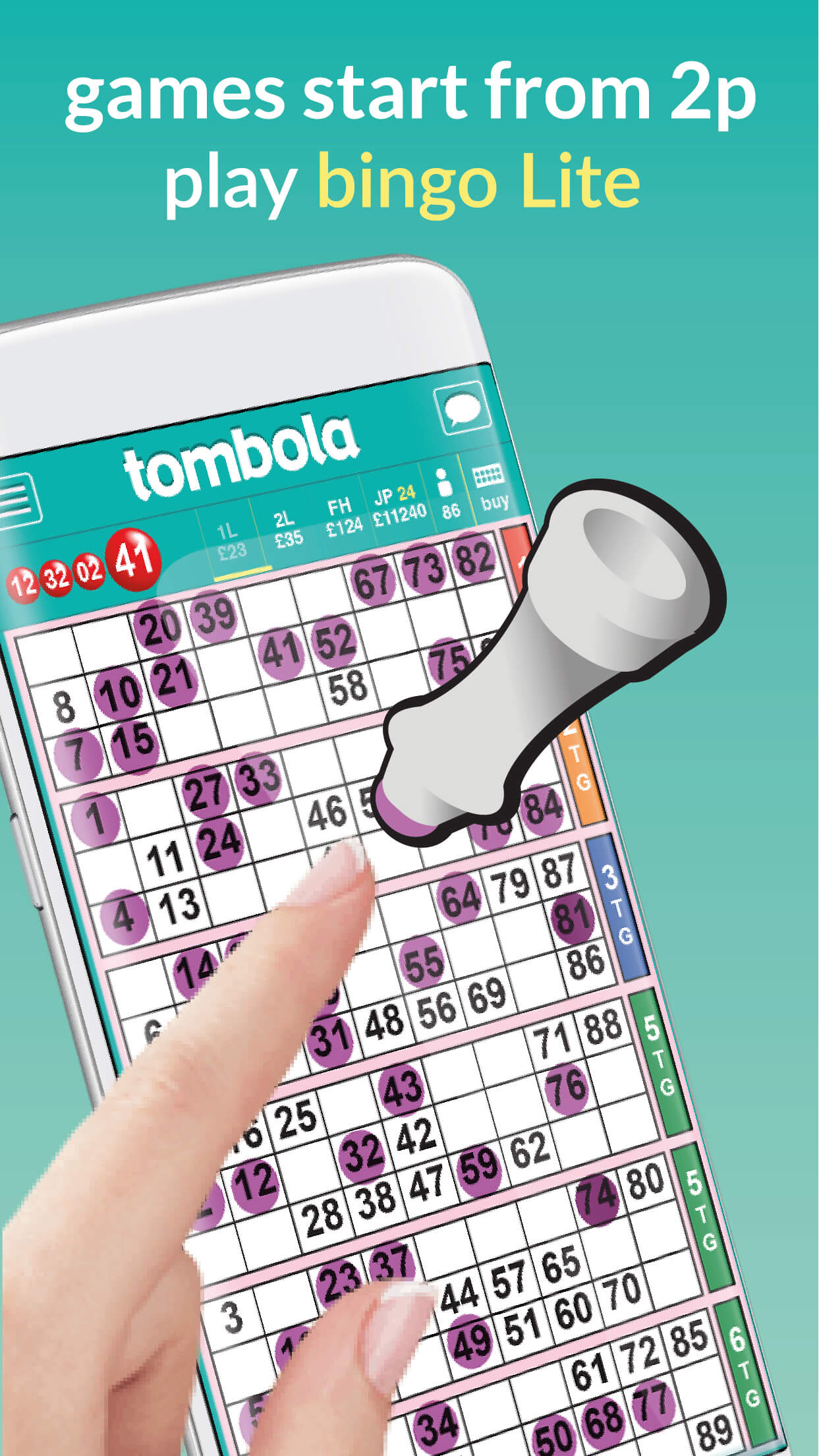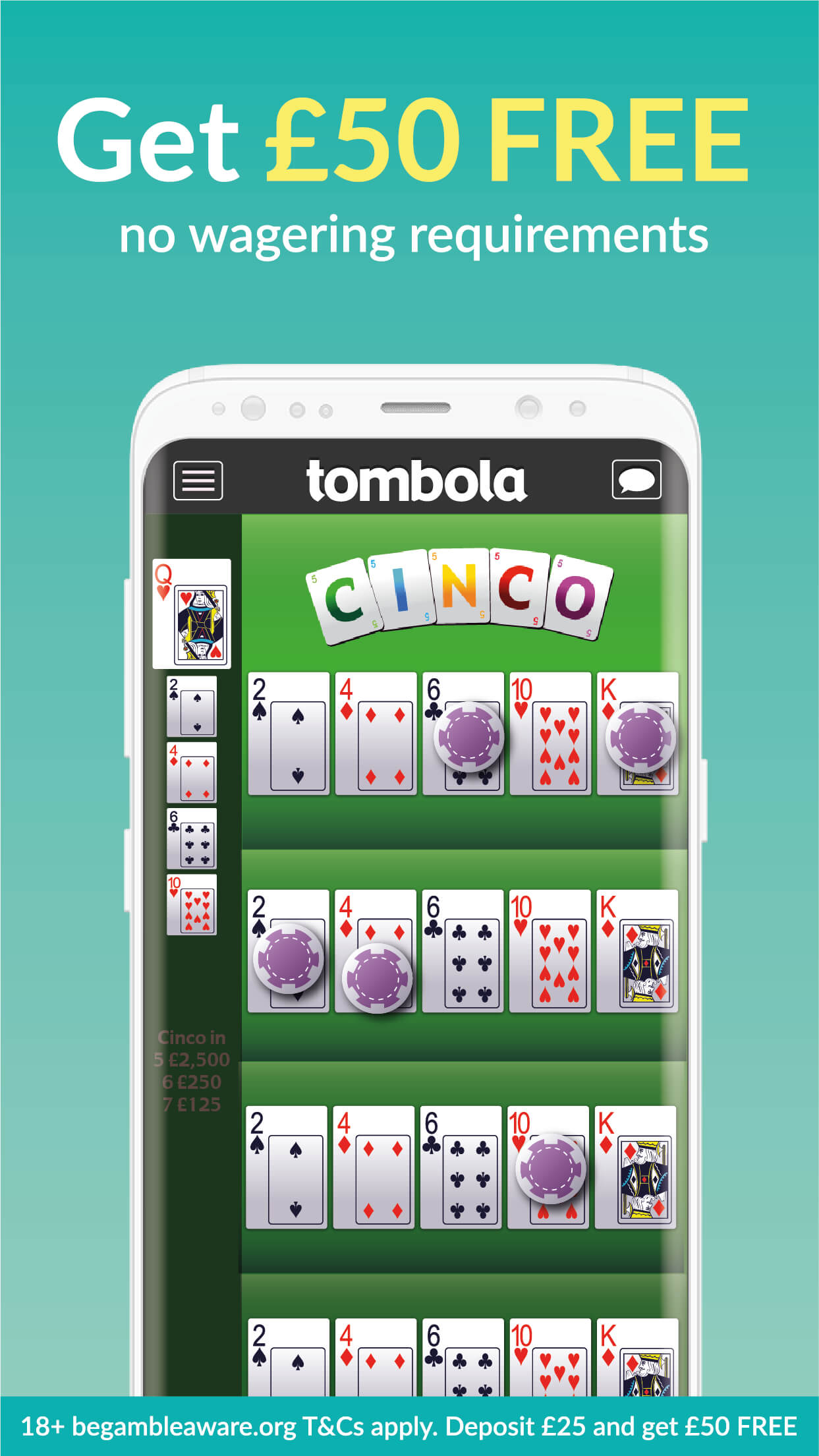 Description
Come join the fun at tombola, Britain's biggest bingo app. We've got all of the games you know and love like bingo 90 and bingo 80 as well as some of our own unique bingo and casino games like Pulse, Cinco and our latest game Blocks.
What's more new players can get their hands on our welcome if; if you deposit £25 we'll give you £50 absolutely FREE or deposit £10 and we'll give you £20 extra to play with*
...and remember if you win and want to withdraw any real money, there are no wagering requirements at all. So if you win money in any game you're able to withdraw the full amount.
Already a tombola player? Then simply download the app and login using your usual details and you can play all of the games you know and love on the move, in front of the TV or even on the loo if you so wish… you can't do that with a desktop computer.
Our games start from just 2p in bingo Lite and we have unique bingo games that you'll not find anywhere else. If that still doesn't tickle your fancy how about jackpots up to £20,000 ? !
Community is at the heart of tombola bingo, all of our online bingo games have chat rooms attached to them so you can have a natter with other players and our friendly bunch of Chat Moderators, who you'll see from time to time. Our Chat Mods are happy to answer all of your tombola questions and you can also win money in their chat games throughout the day. ***
We're a gambling website but we want you to gamble responsibly, we want you to have fun while you play whilst making sure you stay in control of your spending. We've got a number of responsible gambling features to help you do so – from setting a deposit limit(don't forget you get £1 bonus for doing this), freezing a game, cooling off and much more. Be sure to check out the "play responsibly" section in your account.
This is just another reason we've won Bingo Operator of the year (2017, 2016, 2014, 2013, 2012) and Best Overall Bingo Operator(2012).
Over 18s only.
* Deposit £10-£25 and get 200% bonus money. First deposit only. Terms apply.
iOS app store reviews
4.3





(3372

)

Battery drained 5% in the time it took to play the 4free couple of minutes.

2.
Love the game!
levitheluckygamler
Always enjoy playing, so much fun and its a great community.

3.
Nothing better bingo related
sharshar001
Great app works well and just what the doctor ordered when you fancy a quick game of bingo or just fancy a quick game

Good game

Nice and easy to play, loads of free games and fun :-)

Love love

7.
Love Tombola
Animallady71
Only set back I have about pulse is say I bet a £1 and house is for example £85,now if someone else bets a £1 so the £85 gets halved £42:50 that's fine.but what if I bet a £1 for the £85 house say someone else bets say 25p they win say £1 odds and I win £42:50 what happens to the other £40 0dds should that not go to the person that put the most money in if they win that bet.thats the only problem I have with tombola.i just think that's unfair.

A great app and one of the fairest sites. Never any technical difficulties and everything is just simple to use! The win rate is good and I love the different games, which are so unique!

Its fun to play but to be honest i do t win on bingo think in 5 years i have had about 4 wins on bingo its usually the same peoplw winning but its nice to go there just for a chat sometimes you get aome lovely people on there

10.
Can't believe I won
beck9898
Amazing prizes and load of choice xxxxx thank you Tombola xxxxxx

11.
Playmates awards.
thats meJazzyjoyce
I have been playing on this site 2005 it was the Sun then I had a good few wins then not since Tombola took over yes I have had a few wins but hey have not justified the enormous amount I have spent... The new members always win seen it all too often also why have you stopped going playmates names when one is awarded a playmates win. I asked the CM but she did not know and could not give a proper answer. I play on this site because I like the layout of the bingo much better than any other site. jazzy Joyce.

12.
Fabulous games.....just treat it as a bit of fun!
HevMarie1981
I deposited £10 and got £20 bonus to play and i had a lot of fun playing lots of games. I won 79p in total, which disappointed me, but the games are brilliant - nice music, fun backgrounds, you have a countdown timer so the anticipation builds. I paid £10 again hoping to win back some money, and became obsessed i admit, it's addictive but that's expected. I won around £4 back so i was pleased. After another £20 i played many games of Hex, the new game, and was very excited to win a few times, in fact i won all my £40 back after all this time. I now know that you are very likely to win occasionally, you just have to treat it as a fun way to relax and step away after half an hour. I will continue to play Tombola, but i will not expect to win very often, and certainly not more than a tenner at best.

Really fun app

14.
Can't win every time lads and lassies
motherfukajones
Great for a laugh or to pass some time if you have a spare few quid always a chance you can get a win

15.
Mark Balfour
balfourmark
Always enjoy playing tombola. Mixture of games across the board. Always know when to stop.

16.
Never had a big win but it's good
kthk78
Been a member from the start the old sun bingo games. My biggest win was £125 on a cash point machine game easily 8 or more years ago. I still play as I love the simple game play and I have always had little game wins and made it fun. Have known people who won big and have never played another bingo else where. Fingers crossed one day I win a cinco little 10p jp but who knows 😁

Great fun to play, been on the app about 3 days put £20 into the app from my money and I've won back £415 +

18.
Always 1tg
JaneYoung75
Been a loyal player for about 8 years This past year , has been bloody terrible, constantly 1tgs and I mean constantly, don't get wrong I've won plenty , but I'm seeing the same names winning all the time , and when I say well done among others you get no reply ??? Cmon Tombola store my faith!!

19.
Thumbs up
Gdgshjkoppppookjhgfddee
Brilliant app Love this app great fun

I love all sights but this is my favourite skippy-locos

21.
Mrs June Brady
bluevelvet1956
Love tombola play it every day xx

22.
Just Like all gambling sites
canny think of a nick name
this is a gambling site. It's Not a "game" it's a gambling site. This site and others like it should only be enjoyed occasionally with money you are willing to and can afford to lose. Like all gambling sites the odds ain't in your favour as the punter but in the sites favour. As The old saying goes "the bosses of these companies drive to work in a Bentley while the punters get the bus". So true. You may win on here but more of you are more than likely not to as any gambler with a clear head could tell you. Please gamble responsibly and never chase any losses. Set a budget and never exceed that. Sites like this are fun so keep them that way. Fun! **update** I didn't write this review for the developers to contact me or reply as they did. I'm not advocating there site in the slightest and as with all gambling sites I would recommend people avoid them at all costs. Only one winner on these sites and it's them. The secret and the Best way to win? Keep your money in your pocket don't give them it in the first place. 👍👍

23.
Good app
caley8491058492
Amazing

Great site all bingo family need a chat someone will talk to u other sit bk n enjoy well done tombola (nannytokam)
Additional app information
Updated
3rd September 2020
Current version
5.12.3+2
Size
55 MB
Compatibility
Version 5 (Lollipop) and above
Feedback
Keep your feedback coming in to [email protected]
Having trouble installing?
Q. Why do I need to allow 'Unknown Sources' on my kindle?
A. Kindles are only set to only allow downloads from the Amazon Store. Ticking the 'Unknown Sources' box allows you to download apps outside of the Amazon Store. As of Wednesday 2nd August, 2017 the tombola app will be available in the Google Play Store, for all other android devices.
Q. What happens if I turn 'Unknown Sources' off after downloading your app?
A. Nothing, you will still be able to play on our app.
Q. I've downloaded the app but I can't find it.
A. Use the pull-down menu after the app has downloaded and click 'install'. If the app does not show, look in the file 'app' and then 'download' folder - it may have downloaded to your phone's memory or to your memory card.
Q. What Android version is the app compatible with?
A. Version 4.4 (KitKat) and beyond.