tombola bingo kindle app
4.4





(3211

)
open your phone 'settings'
​and navigate to 'security'
​
As you are downloading
direct ​from tombola,
find and tick
​'unknown sources'
tap 'OK' on the pop-up
​to confirm the change
​head to
​tombola.co.uk/bingo-app
​on your phone and click on
​'​download'
​a pop-up will appear.
​tap 'ok' to
​begin the download
​once downloaded
​click on the .apk file
​and select 'install'
​installation will only take
​a few moments
​register an account
​or login to play
​once installed, simply tap
​'open' ​to launch the app
​*Kindle instructions vary slightly
​​Do you want to install this application? It does not
​require any special access.
​tombola app is
100% safe and secure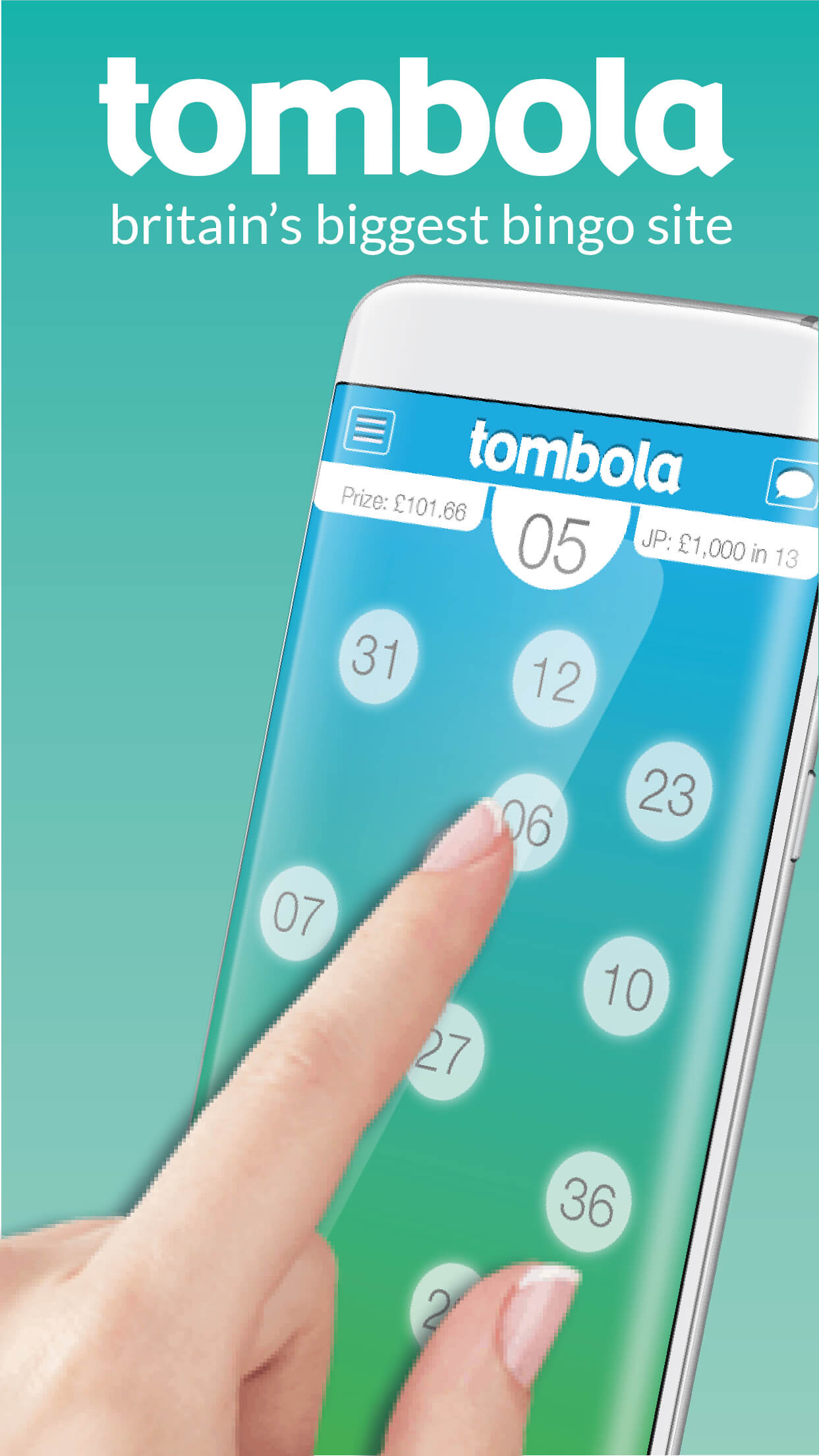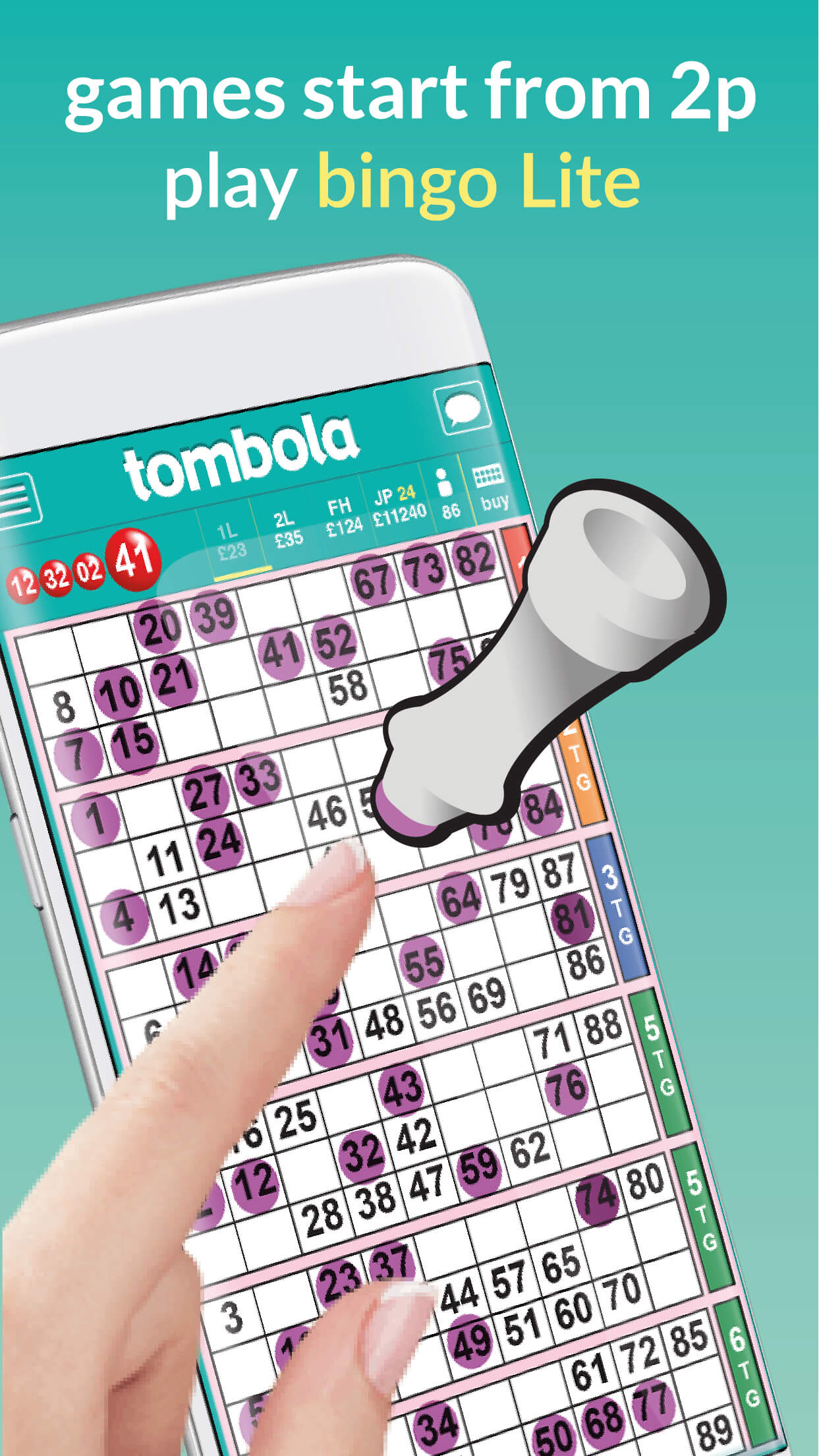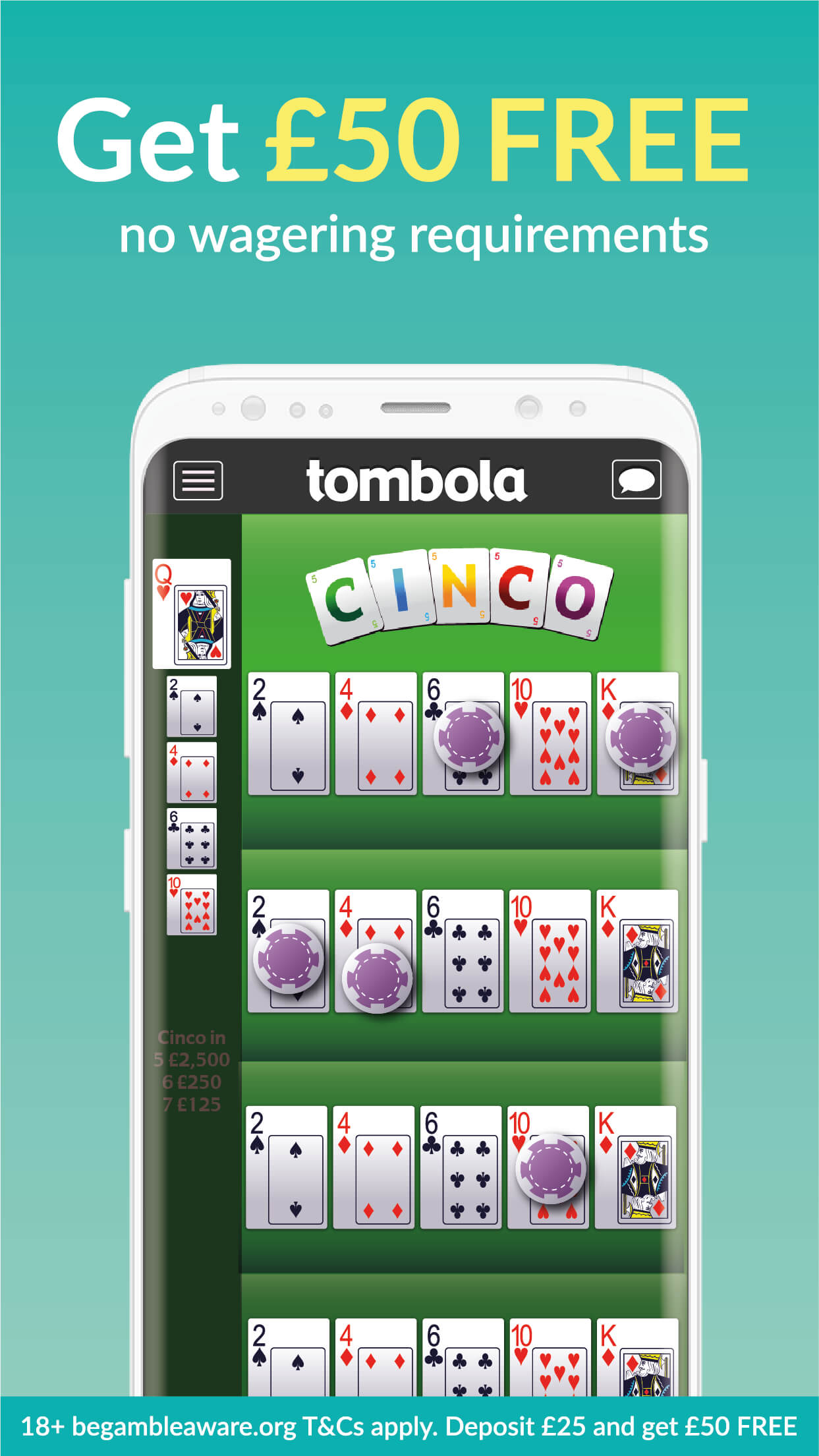 Description
Come join the fun at tombola, Britain's biggest bingo app. We've got all of the games you know and love like bingo 90 and bingo 80 as well as some of our own unique bingo and casino games like Pulse, Cinco and our latest game Blocks.
What's more new players can get their hands on our welcome if; if you deposit £25 we'll give you £50 absolutely FREE or deposit £10 and we'll give you £20 extra to play with*
...and remember if you win and want to withdraw any real money, there are no wagering requirements at all. So if you win money in any game you're able to withdraw the full amount.
Already a tombola player? Then simply download the app and login using your usual details and you can play all of the games you know and love on the move, in front of the TV or even on the loo if you so wish… you can't do that with a desktop computer.
Our games start from just 2p in bingo Lite and we have unique bingo games that you'll not find anywhere else. If that still doesn't tickle your fancy how about jackpots up to £20,000 ? !
Community is at the heart of tombola bingo, all of our online bingo games have chat rooms attached to them so you can have a natter with other players and our friendly bunch of Chat Moderators, who you'll see from time to time. Our Chat Mods are happy to answer all of your tombola questions and you can also win money in their chat games throughout the day. ***
We're a gambling website but we want you to gamble responsibly, we want you to have fun while you play whilst making sure you stay in control of your spending. We've got a number of responsible gambling features to help you do so – from setting a deposit limit(don't forget you get £1 bonus for doing this), freezing a game, cooling off and much more. Be sure to check out the "play responsibly" section in your account.
This is just another reason we've won Bingo Operator of the year (2017, 2016, 2014, 2013, 2012) and Best Overall Bingo Operator(2012).
Over 18s only.
* Deposit £10-£25 and get 200% bonus money. First deposit only. Terms apply.
iOS app store reviews
4.4





(3211

)

1.
Thumbs up
Gdgshjkoppppookjhgfddee
Brilliant app Love this app great fun

I love all sights but this is my favourite skippy-locos

3.
Great site they look after there customers too, I included £5 bonus codes in review
itspjaay
They will ensure safe fun play, And the chat is always good to pass the time , unlike other gambling sites I find I spend less on here and get more value for my Money also here is some new player £5 bonus codes no deposit required , SRCGN SPXLP TTRCG All free £5 no deposit needed on signup enjoy and good luck

4.
Mrs June Brady
bluevelvet1956
Love tombola play it every day xx

5.
Just Like all gambling sites
canny think of a nick name
this is a gambling site. It's Not a "game" it's a gambling site. This site and others like it should only be enjoyed occasionally with money you are willing to and can afford to lose. Like all gambling sites the odds ain't in your favour as the punter but in the sites favour. As The old saying goes "the bosses of these companies drive to work in a Bentley while the punters get the bus". So true. You may win on here but more of you are more than likely not to as any gambler with a clear head could tell you. Please gamble responsibly and never chase any losses. Set a budget and never exceed that. Sites like this are fun so keep them that way. Fun! **update** I didn't write this review for the developers to contact me or reply as they did. I'm not advocating there site in the slightest and as with all gambling sites I would recommend people avoid them at all costs. Only one winner on these sites and it's them. The secret and the Best way to win? Keep your money in your pocket don't give them it in the first place. 👍👍

6.
Bigslice2019-Review
motherfukajones
I like the tombola app was actually my girlfriend and her mum who got me playing the bingo We have had 1 or 2 small wins since We started playing it not much. It is a laugh tho and we both enjoy playing it 💪🏼😂

7.
Good app
caley8491058492
Amazing

Great site all bingo family need a chat someone will talk to u other sit bk n enjoy well done tombola (nannytokam)

9.
Can be fun but BEWARE!
DanDaMan1607
I've played this for 5 years and never won a single line. It's enjoyable, worth the money.

It's the fairest gambling site I've played on I've won a couple of times you can play a max that is set so same everyone playing so people who are lucky enough to be in a situation that allows them to max is the same as anyone who is not in the same situation you are set a maximum win or not it's the best fun gambling site I've been on. Well done Tombola

It's Avery hard site to win on. 90 s is almost impossible Cinco some times. 7 months no win in 90s. If I win I will let you know

Brilliant and easy to use love it

13.
Disappearing App
Kim603313
I love Tombola and have played for years but the app is a real pain, every time I leave the Tombola site then try to go back in I just get a blank blue screen, I then have to delete app and reinstall every time I want to play 🤷‍♀️😡

14.
Yeash
Kievan milliken
Brill

The best bingo app out 👍🏻👍🏻

Absolutely love these games! But hardly ever win great if you've plenty of moolah

17.
Seems to be same ones winning a lot
debsyG53
I play this a lot play trio, bingo lite and bingo 90 and play I mean a lot as I love playing bingo yet out of the length of time that I've been playing which is a long time I've won little money twice and see that same names numerous times pop up winning, I received a reply from tombola when I said this the last time and it was said those players most probably play a lot and play with lots of tickets, it's a game Of luck and chance, yet I play a lot and always with four tickets so help me out here lol. Anyway the amount of money I've spent I could have went easily on a luxury holiday somewhere so think that's what I'll do with the money I set aside each week for bingo and say bye tombola it's been fun playing

Played for the first time tonight deposited £10 withdrew £40

Tombola is the best bingo game to play

I signed up to this a while back a won nothing not a penny even with the bonus money I received I said it's a scam to myself and didn't go near it again until last week I put £10 into my account.. I won £13..I was happy with that knowing now it wasn't a scam..then this morning I played again and won £108.73p so it is possible to win real money here it's all about your luck and also believing you can win

21.
Tombola
princessFreya
I enjoy playing. It's like a stress relief for me and people are so welcoming. I have seen a couple of the same people winning pretty much every day. They must put a lot of money into this to be able to win like that. I'm not complaining. I just enjoy the games and atmosphere.

22.
Suites everyone's budget
stac2007
Great games and nice to have a choice of games to suit everyone's budget
Additional app information
Updated
9th June 2020
Current version
5.12.0+1
Size
75 MB
Compatibility
Version 5 (Lollipop) and above
Feedback
Keep your feedback coming in to [email protected]
Having trouble installing?
Q. Why do I need to allow 'Unknown Sources' on my kindle?
A. Kindles are only set to only allow downloads from the Amazon Store. Ticking the 'Unknown Sources' box allows you to download apps outside of the Amazon Store. As of Wednesday 2nd August, 2017 the tombola app will be available in the Google Play Store, for all other android devices.
Q. What happens if I turn 'Unknown Sources' off after downloading your app?
A. Nothing, you will still be able to play on our app.
Q. I've downloaded the app but I can't find it.
A. Use the pull-down menu after the app has downloaded and click 'install'. If the app does not show, look in the file 'app' and then 'download' folder - it may have downloaded to your phone's memory or to your memory card.
Q. What Android version is the app compatible with?
A. Version 4.4 (KitKat) and beyond.