tombola bingo
app for android
4.5





(6172

)
open your phone 'settings'
​and navigate to 'security'
​
As you are downloading
direct ​from tombola,
find and tick
​'unknown sources'
tap 'OK' on the pop-up
​to confirm the change
​head to
​tombola.co.uk/bingo-app
​on your phone and click on
​'​download'
​a pop-up will appear.
​tap 'ok' to
​begin the download
​once downloaded
​click on the .apk file
​and select 'install'
​installation will only take
​a few moments
​register an account
​or login to play
​once installed, simply tap
​'open' ​to launch the app
​*Kindle instructions vary slightly
​​Do you want to install this application? It does not
​require any special access.
​tombola app is
100% safe and secure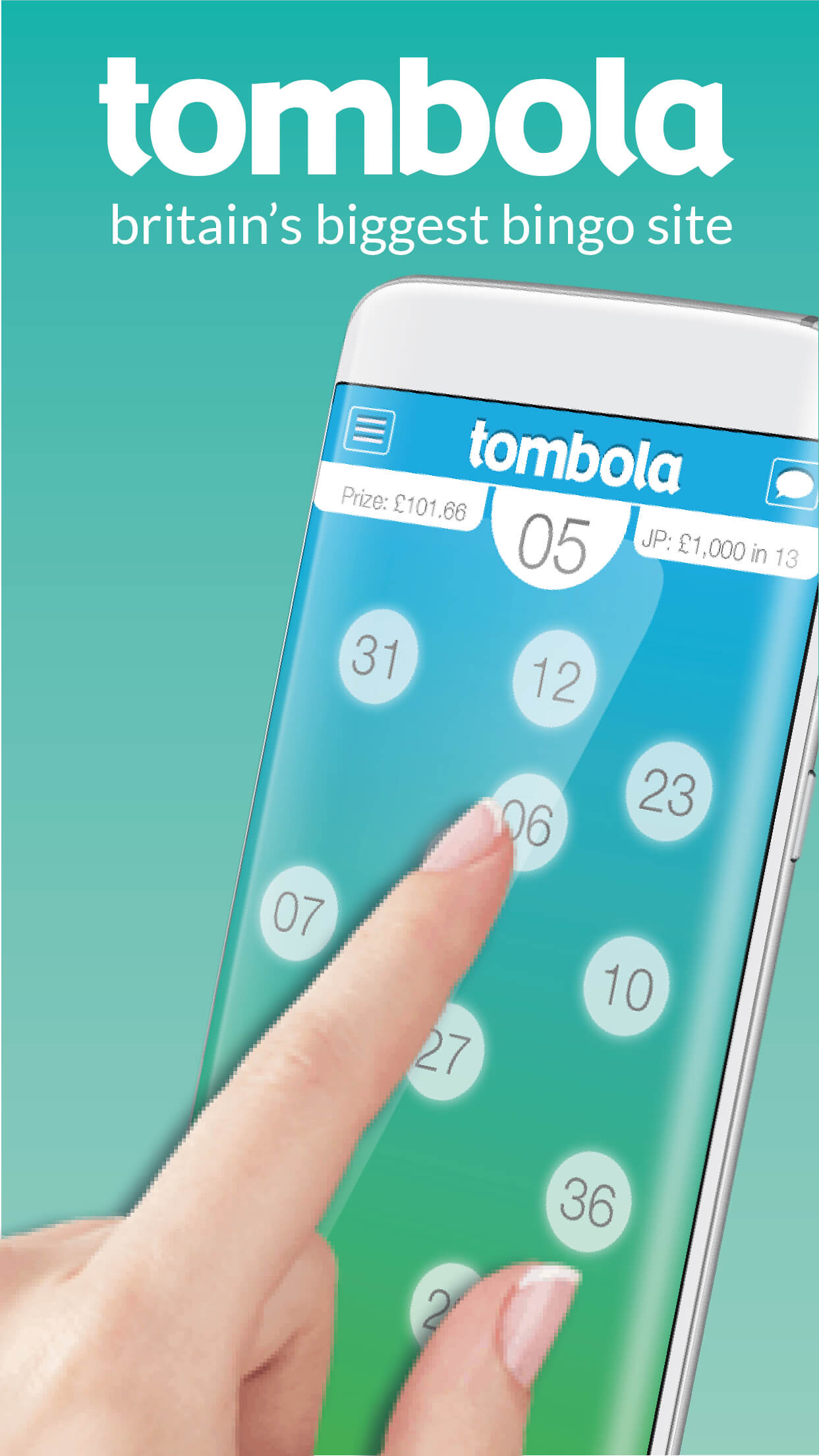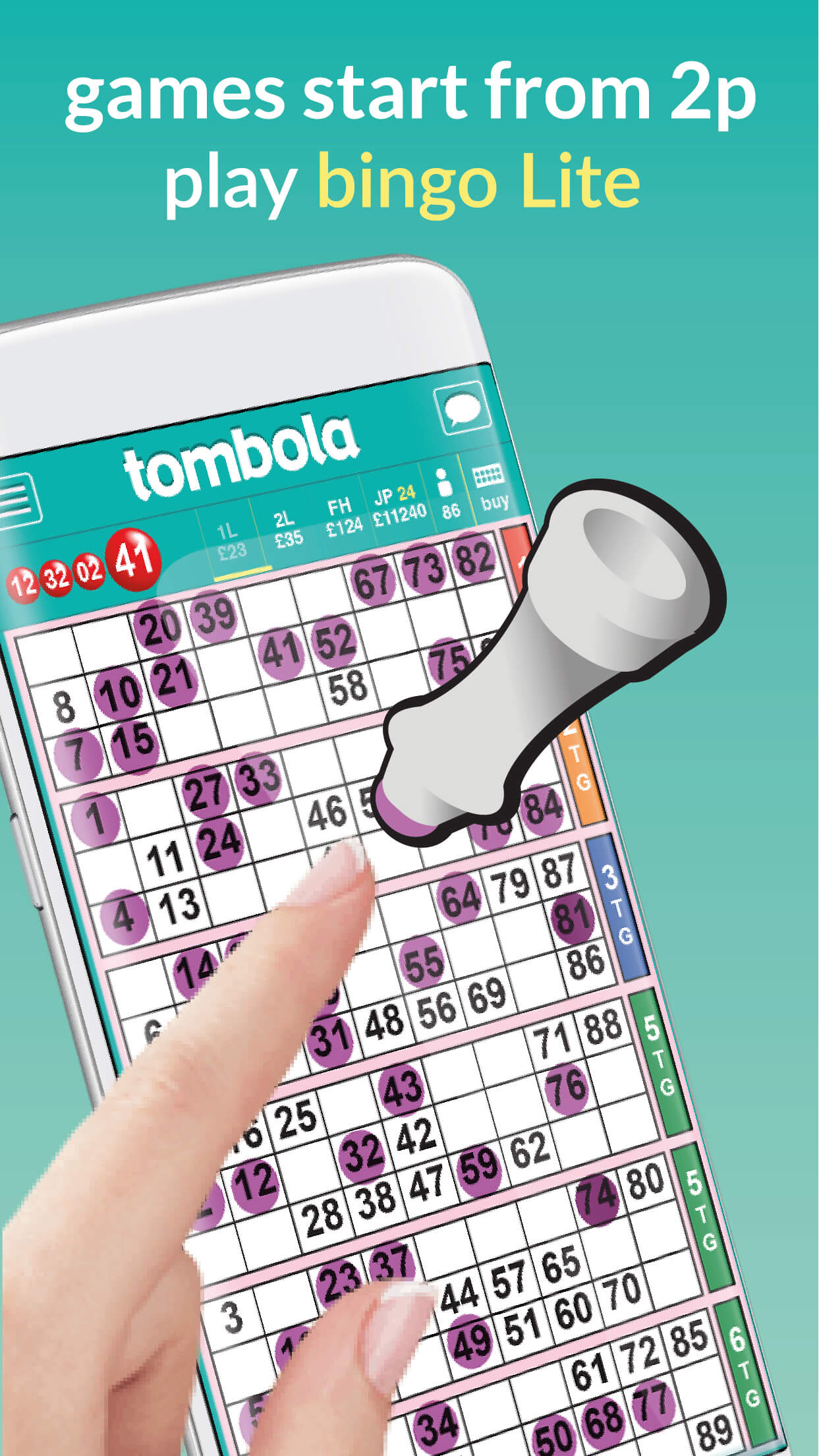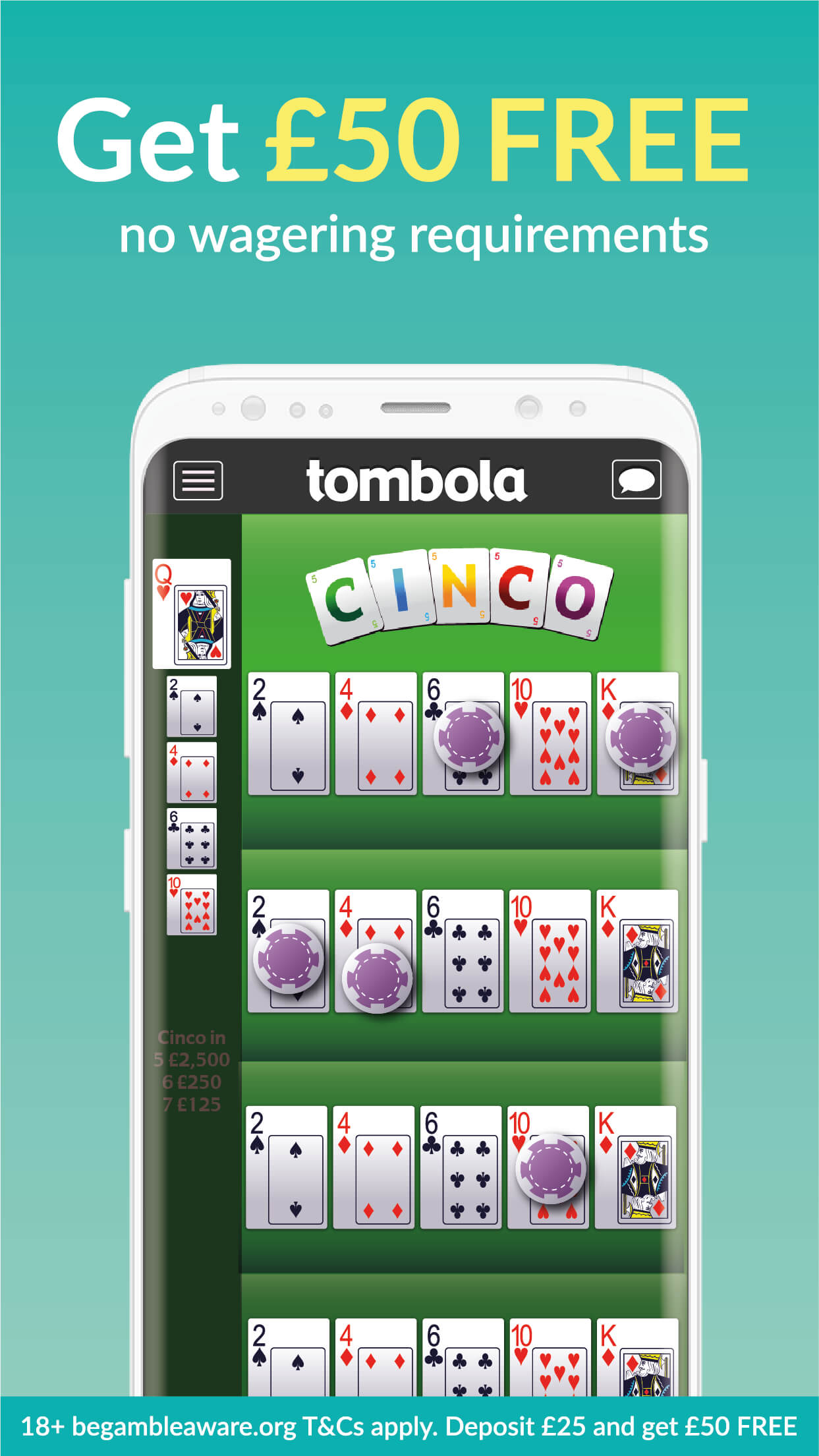 Description
Come join the fun at tombola, Britain's biggest bingo app. We've got all of the games you know and love like bingo 90 and bingo 80 as well as some of our own unique bingo and casino games like Pulse, Cinco and our latest game Blocks.
What's more new players can get their hands on our welcome if; if you deposit £25 we'll give you £50 absolutely FREE or deposit £10 and we'll give you £20 extra to play with*
...and remember if you win and want to withdraw any real money, there are no wagering requirements at all. So if you win money in any game you're able to withdraw the full amount.
Already a tombola player? Then simply download the app and login using your usual details and you can play all of the games you know and love on the move, in front of the TV or even on the loo if you so wish… you can't do that with a desktop computer.
Our games start from just 2p in bingo Lite and we have unique bingo games that you'll not find anywhere else. If that still doesn't tickle your fancy how about jackpots up to £20,000 ? !
Community is at the heart of tombola bingo, all of our online bingo games have chat rooms attached to them so you can have a natter with other players and our friendly bunch of Chat Moderators, who you'll see from time to time. Our Chat Mods are happy to answer all of your tombola questions and you can also win money in their chat games throughout the day. ***
We're a gambling website but we want you to gamble responsibly, we want you to have fun while you play whilst making sure you stay in control of your spending. We've got a number of responsible gambling features to help you do so – from setting a deposit limit(don't forget you get £1 bonus for doing this), freezing a game, cooling off and much more. Be sure to check out the "play responsibly" section in your account.
This is just another reason we've won Bingo Operator of the year (2017, 2016, 2014, 2013, 2012) and Best Overall Bingo Operator(2012).
Over 18s only.
* Deposit £10-£25 and get 200% bonus money. First deposit only. Terms apply.
iOS app store reviews
4.5





(6172

)

Very good but hard to win

Best bingo site! Shame I haven't won yet to buy my first car x

Really like the bingo games in this app all games are really fun

Love the game sites.Best I have been on. Always clear how much money you have left. Winnings paid immediately and good value for money - keep up the great games with affordable costs.

Brilliant site, love playing, great wins

6.
My time
buckybuckybooboo
Tombola is my time to relax hope enjoy and just thinking maybe my turn enjoy when some one gets a big win whoever it maybe it could b any of us so keep playing u never know x

Good game

8.
Tombolatastic
crunchbucket
Love all the games on this site in both arcade and bingo you have a wide choice. I would recommend this site to all

Tombola is a fantastic site. Never an issue when paying out ur winnings unlike other bingo sites. I have recommended tombola to lots of my friends and they love it too. Thank u tombola.

I love it! Set a limit and play responsibly and you will love it too. The chat moderators are great and you can get as involved as you want to. I've met some lovely people and can have a good laugh in the chat rooms at times. Don't join if you are predisposed to being a moaner because winning is not guaranteed!! I've won a handful of jackpots, so it can be done 😍

I absolutely love this for both bingo and slots. Would highly recommend to anyone who is thinking of joining. It's totally worth 💯💯 xx

Can't fault the tombola app to be fair Thoroughly enjoyable 5⭐️

Best bingo site by far. Love all the games (big variety to choose from) chat room are great, everyone is really friendly and u get a laugh. Won jackpot a few yrs ago just over 9k 🥰

Would not play on any other bingo site You are all so friendly and the chat is brilliant Love tombola

15.
The Best Bingo App
Mrs Artist
I have down loaded lots of bingo apps and tried them, tombola is by far the best, good steady fun, nicely laid out, easy to navigate, great customer service if you have any questions or problems, I would recommend this app if you fancy a flutter, 🥳

16.
Working now
Chris-K-199
This was working until the update yesterday please can you do another update to correct it please. Will then alter it to 5 stars. This is the second time this has happened when updating Thank you. This was sorted very quickly thank you to one of the best bingo sites 👏👏

17.
Brilliant
Esquire barbers uk
Can't believe how well I've done on this, definitely a fantastic app

Love playing on Tombola app but the arcade one could do with more slots

Excellent bingo site , always staking , always winning. Very fair game

20.
Amazing app
caffffffy
So I've been playing since February, I won a fair amount I'd say I withdrew 90% of the time I played.. then two weeks ago I got the pulse jackpot of £2000. Over the moon and completely fair site. Well thought out, easy to work, good odds- they use random number generator. I play daily and it sure isn't the same winners, I've had days I've won nothing at all just take take take- luck of draw..other times I've won 4 games in half an hour. Don't play what you can't afford to loose and you'll love it.

21.
Sharpo aback
sharposback
Always fun Just stick limits and enjoy

All verified thank you

At the moment in the bingo I have been on here for two months or more can't remember when started, I have not won one bingo so if this improves then I might change my rating thanks for reading

24.
Best bingo app by far!!!
cegs1982
Won loads and absolutely love it!!!

25.
Join tombola
twittwow
Tombola is like having a second family, all the players and cms are so much fun and friendly, the games are a real bonus, come and play and see u there lol

26.
I like it
tomaszwhite
Good app,if you play responsibly and you know when you have to stop is very possible that you win some money .

27.
Vonnie 240
my babys three
Thx for response I lv the arcade & bingo I must agree with both of you I find even before the bingo I hv the same names , tom I would appreciate the random names to be looked into . Everyone pays good money. I can't afford to buy max tkt I. I do sometimes. Sound very nice honest plz helpful . look forward To your response . 🤞🏻

28.
5 star
raspberrypearl
Online bingo always helpful staff best online bingo !!!

29.
Blocks
clarabella8973
Love the site and games. But the Blocks game for some reason drains my phone battery super fast 😩

30.
Best genuine game on the internet
xshazntray13x
I've played on tombola since it very first started over 16 years ago & it's the only site I trust! The CMs are fab, the money they play for is way more better than any other site I've played & you can't play multiple games where you can lose a fortune unlike some other sites. 100% trust worthy
Additional app information
Updated
28th August 2019
Current version
5.6.1+1
Size
62 MB
Compatibility
Version 5 (Lollipop) and above
Feedback
Keep your feedback coming in to [email protected]
Having trouble installing?
Q. Why do I need to allow 'Unknown Sources' on my kindle?
A. Kindles are only set to only allow downloads from the Amazon Store. Ticking the 'Unknown Sources' box allows you to download apps outside of the Amazon Store. As of Wednesday 2nd August, 2017 the tombola app will be available in the Google Play Store, for all other android devices.
Q. What happens if I turn 'Unknown Sources' off after downloading your app?
A. Nothing, you will still be able to play on our app.
Q. I've downloaded the app but I can't find it.
A. Use the pull-down menu after the app has downloaded and click 'install'. If the app does not show, look in the file 'app' and then 'download' folder - it may have downloaded to your phone's memory or to your memory card.
Q. What Android version is the app compatible with?
A. Version 4.4 (KitKat) and beyond.